MAJOR UPSET THIS YEAR!!!
13 Aug 2023: Charlie Burell pulled-off a stunning upset beating the long-standing Champion Roger Davies, which as anybody who's ever raced against him will tell you that takes some doing!
The conditions were harsh with strong headwinds which really made a hard race even that much harder. And this is a race that can make grown men cry; it's quite punishing. Most folks on a standard (notice I didn't say "normal" ;-> ) bicycle have to dismount and walk up Beachy Head. So this was a hard race, made all the harder this year.
And Roger is known to be a hard bastard. You have to be at the top of your game to beat Roger, so all the more credit to Charlie pulling off such a stunning upset under such severe conditions. F*cking amazing racing!
Roger took 2nd, but we had a new face we hadn't seen in the last few Beachy Head's Richard Thoday took third behind Roger. But even this mus be place in context: Thoday- the Guiness Book of World Records record holder who broke a 150 year old speed record cycling a Penny-Farthing from Lands End to John O'Groats- managed the feat on a 56″ Penny-Farthing. On flat ground, a larger High Wheel is an advantage. But in a race such as Beachy Head, nobody wants to grunt up a big hill on a 56″ Penny-Farthing. Man, that's hard going…
Here's a clip of Richard blowing by me at the top of Beachy Head: Bastarding Bastard!!!!! 😉
And of course like all PF racing, it was a very international field with racers coming as far a field as Belgium & Germany. Thomas Rheinheimer & Andreas Carduck travelled from Germany to race and Rik Vernack from Belgium. There was of course the usual cast of characters from Blighty who show up at all races. There was not however any international cheating and sex scandals- PENNY LES!!!!! like last year (see blog for last year).
Almost forgot: halfway through the heavens absolutely opened up with FREEZING rain! Any competitor finishing during this, you are one hard bastard! That was crazy. It BUCKETED down.
Matt Trot and his lovely family hosted a pre-race BBQ the night before at their joint in Eastbourne which was done to the same high standard as his race organizing- and that's pretty high. Takes a lot of coordination to run this race due to the course.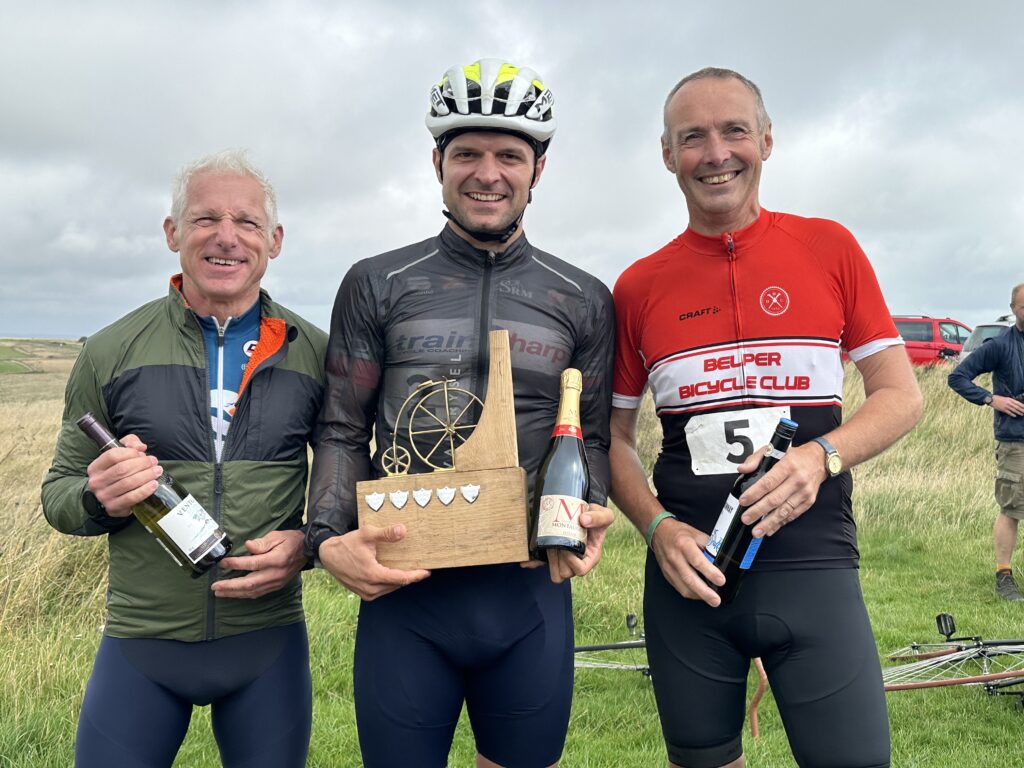 Charlie Burell 1st, Richard Davies (L) 2nd and Richard Thoday 3rd. Well done lads!
Here's a video of the race. The first part is just my helmet cam, but at the end I've added all the individual finishes my Wifey was able to get on her phone. There were some missed out; I assure all those affected that it was unintentional- I always try to get everybody in the pictures wherever possible. We're all Penny-Farthing kinsfolk and I'd never exclude of you-
Well, that's all that I can remember; I'm woefully behind in my blogging as you can see from the date. Look forward to seeing you all again at the Penny-Farthing World Hill Climb Championships 2024!