Owayo has selected Terrence Houlahan- admin of Penny-Farthing.org- to represent their cycling sportswear brand as an Owayo Ambassador. Many cycling clubs around the world have their jerseys produced by Owayo using their industry leading 3D Designer technology to emblazon them with logos, artwork & names. Cyclists who aren't graphic designers can create professional looking jerseys.
But for me quality matters most. I don't care how good something looks: if it's not both durable & functional it's of no use to me. Although it's true my initial interest in Owayo was creating a promotional cycle jersey for Penny-Farthing.org- and podium finishes as well as countless folks posting videos of me road-cycling my PF on social media more than achieved this end- it was Owayo's quality that won my loyalty as a customer.
I train hard & frequently- all seasons. So my Owayo jerseys all have big miles on them. The Zippers & stitching on all of them are all perfect and there's been no fading of colours despite being subjected to many hours in the Sun & frequent washing. Best feature though is their Ultra-Dry fabric. I do a lot of miles and I don't want to be on the bench due to sores.
If you want a custom Owayo jersey for your cycling club or charity ride (minimum order just a single jersey), Owayo gave Terrence a 10% discount code good until 31 March 2023 he can give out. Terrence's Ambassador cycling jerseys below were created by himself using Owayo's 3D designer tool on Owayo.co.uk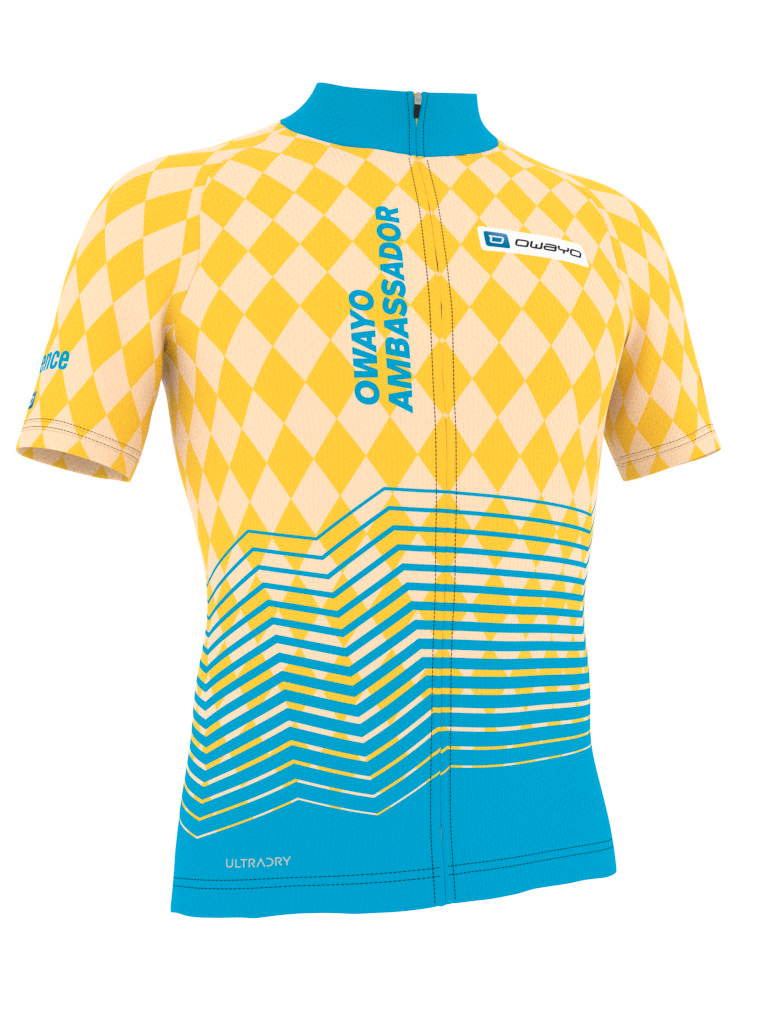 If you want to follow Terrence's experience as an Owayo Ambassador, you can find him on:
Twitter: @MyPennyFarthing
Kamoot: PennyFarthingGuy (which can be interesting if he can remember to log his Kamoot cycles ;-> )
Rumble: https://rumble.com/c/c-621737 (subscribe to be alerted when new videos of Penny-Farthing races & community cycles)