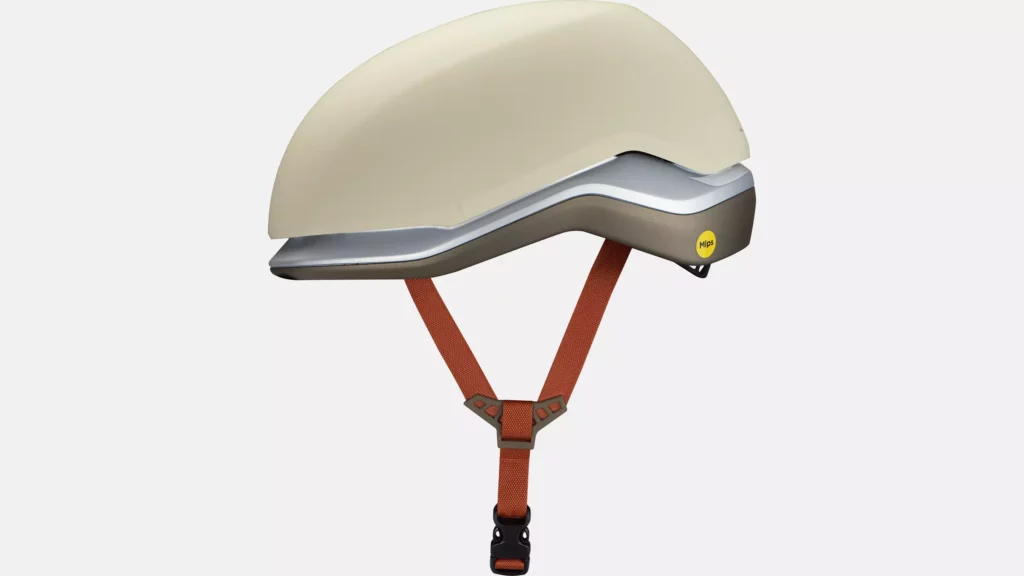 The Specialized "Mode"
Obviously given the risk of dumping at speed riding a 5′ high bicycle, I put a lot of thought into choosing a helmet. What might be a suitable helmet for a road cyclist using a standard- note I don't call it a "normal" bicycle 😉 – might not be sufficient to protect somebody riding a Penny-Farthing.
The Specialized "Mode" came in 4th out of 179 helmets in the safety rankings of the Virginia Tech Cycling Helmet Safety Tests and is the lid I wear riding my Penny-Farthing. It also incorporates the Mips safety feature. The Mode's size Medium adjustable sizing can accommodate my 57mm head wearing a thin Merino wool winter beanie/skullcap under it.
The Mode promotes its' cooling features, but my experience of it is that you have a sweaty head notwithstanding. And sweat can drip onto your glasses which is not ideal. The lining is Velcro-ed inside, so you can wash the sweaty thing periodically which is nice.
But this is clearly a function related to the full-coverage helmet. Most cycling helmets are designed for cooling. But I need maximum protection, so cooling be damned. If I have to make a compromise between protection and comfort, protection is going to win every time.
Overall I'm really happy with the "Mode's" comfort and feel confident it would offer more protection than a standard cycle helmet to protect me in the event of a serious accident. The Specialized "Mode" can be purchased HERE