"Headlight": OLIGHT WM 2 Tactical Torch 1750 Lumens Rechargeable LED Torch
I cycle a lot at night in winter, so having a good light matters to me. I tried many lights sold specifically for bicycles on Amazon and they were crap. They were great initially, but after being recharged numerous times, I was getting barely 15 minutes before the battery went flat. Such lights are a bit pointless- even for short rides. The Olight flashlight however is not only *VERY* bright, but gets around the issue of limited battery life with a very practical feature not found in other lights: it be powered directly from a USB power brick. It has a USB cable you plug into the brick and join the other end's magnetic cap to the back of the flashlight. It has a fast-blink mode too. Downsides: The button is fiddily as hell and changing intensity modes is awkward to say the least, particularly when the flashlight is mounted in the Olight holder (see below). Given that the requirement for a flashlight is lowlight or dark conditions, do you want to be fixated on the flashlight trying to increase the intensity taking your eyes off the road? So very bright and has a bottomless battery capability, but can be a PITA and a distraction to operate. An alternative is to just carry a few flashlights with you if battery life is a problem cycling in the winter months.
OLIGHT FB-1 Universal Bike Mount for Flashlight
I use this to mount my Olight flashlight to my Penny-Farthing's handle bars. Fits other small, intense LCD flashlights. The device is two haves allowing you to change the direction the flashlight points to 90 degrees. It's perfect; full marks for this thingy.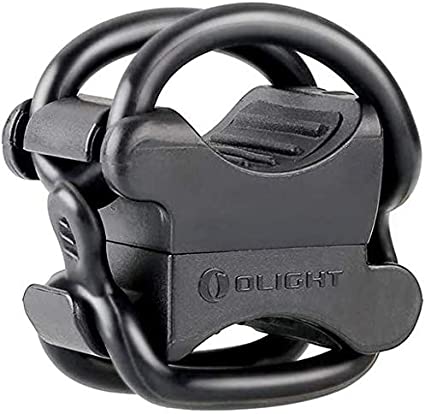 Blinxi Electronic Helmet Turn Signals:
Some clever French folks created adjunct electronic turn signals that can be added to a standard cycling helmet. Setup: Just stick the metal plate the Blinxi magnetically mates to on your helmet. Next attach the Bluetooth controller to your handbars and Voila! You now have a helmet with bright electronic turn signals activated by a button on the handlebars. Key Features: 1) Enhanced Visibility: In addition to providing electronic turn signals, the Blinxi also flashes red intermittently to enhance visibility when cycling on dark, ugly winter evenings. 2) Audible Feedback: The Blinxi beeps so you know it's working. With the Livall helmet with integrated signals, the battery in the helmet can be flat and you'll be blissfully ignorant of this fact 3) Waterproof: I've used it several times this 2022-23 winter in freezing rain pissing down sideways. 4) Signal Cancelling: If you're turning right in a roundabout, you can issue a left turn signal at your exit. This is not currently possible with signals on Livall helmets which signal for a fixed period and no new signal can be issued. Downsides: Only one small niggle to report: the potential for inadvertent loss of the Blinxi. In order to fit the magnetic plate to my helmet, I had to slightly bend it. So the Blixi still magnetically mates to the plate, but it's more subject to loss if the helmet is knocked or bumped. So check it's still attached before moving out again after a rest stop. But if you don't hear the Blinxi beep when signalling a turn, you should be aware something might just be wrong… 😉. I mount my Blinxi on a Specialized "Mode" model helmet.
Here's a link to a 30% discounted Blinxi that Overade- the manufacturer- sent me: But note that the discount is passed via a cookie so you need to accept cookies or the discounted price will not show: Blinxi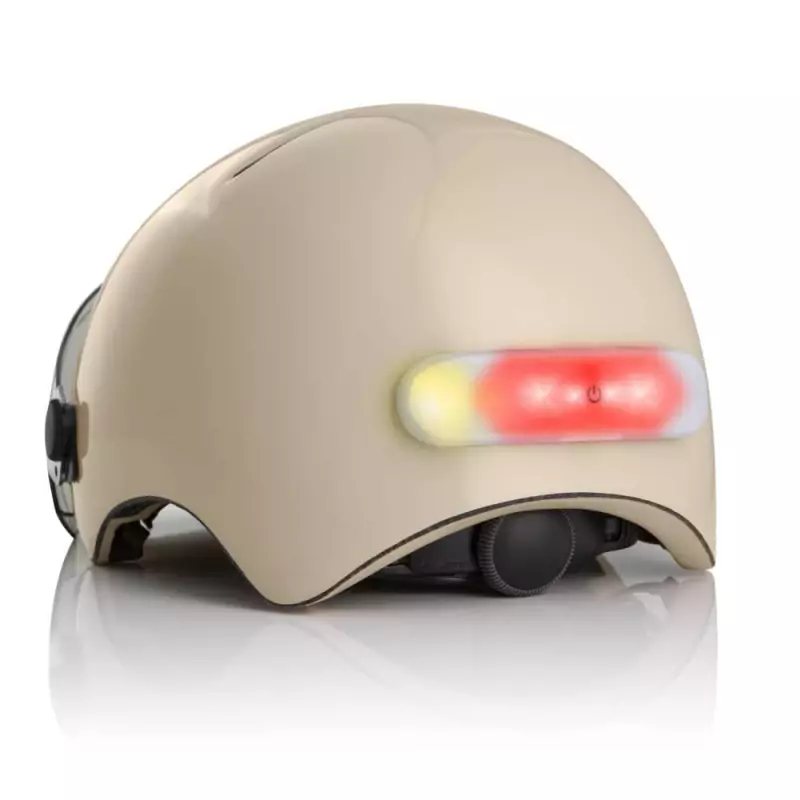 Spoke Lights:
Excellent visibility enhancements. If you're cycling in the early evening or dark- which is most likely when you cycle during winter– a few of these when combined with a High-Vis jacket will significantly improve your safety. They have (4) modes from quick flashing to continuously on. Fitting: Ensure that the thicker part faces towards the inside of the wheel (see pic) and use (2) small ratchet ties, attaching each to a different spoke in opposite directions to create tension forcing the flanges or "wings" of the device against the spokes to prevent them from poking out and catching on the forks. (2) Spoke Lights are positioned on opposite sides of the wheel hub are optimal, but you could just use a single one. I bought mine from Mountain Warehouse, but looks like they discontinued the item
Red Flashing Rear Lights:
Avoid USB charged lights: it's a common complaint that after charging a numerous times the charge doesn't last longer than 30 minutes. Having lights you believe are working but aren't is probably more dangerous than having no lights at all.
Buy signal lights that use standard AA or AAA batteries: they last for ages before the batteries require changing. And I have used the ones pictured on the right on countless cycles in pouring rain and the rubber gasket protects them from water damage.
I wear these on the band of my waist-bag and also fasten one on the spine of my Penny-Farthing using a silicone band. I bought the "Sport Direct" model lights- which have a rubber gasket to keep water out in even torrential rain- pictured at right from HERE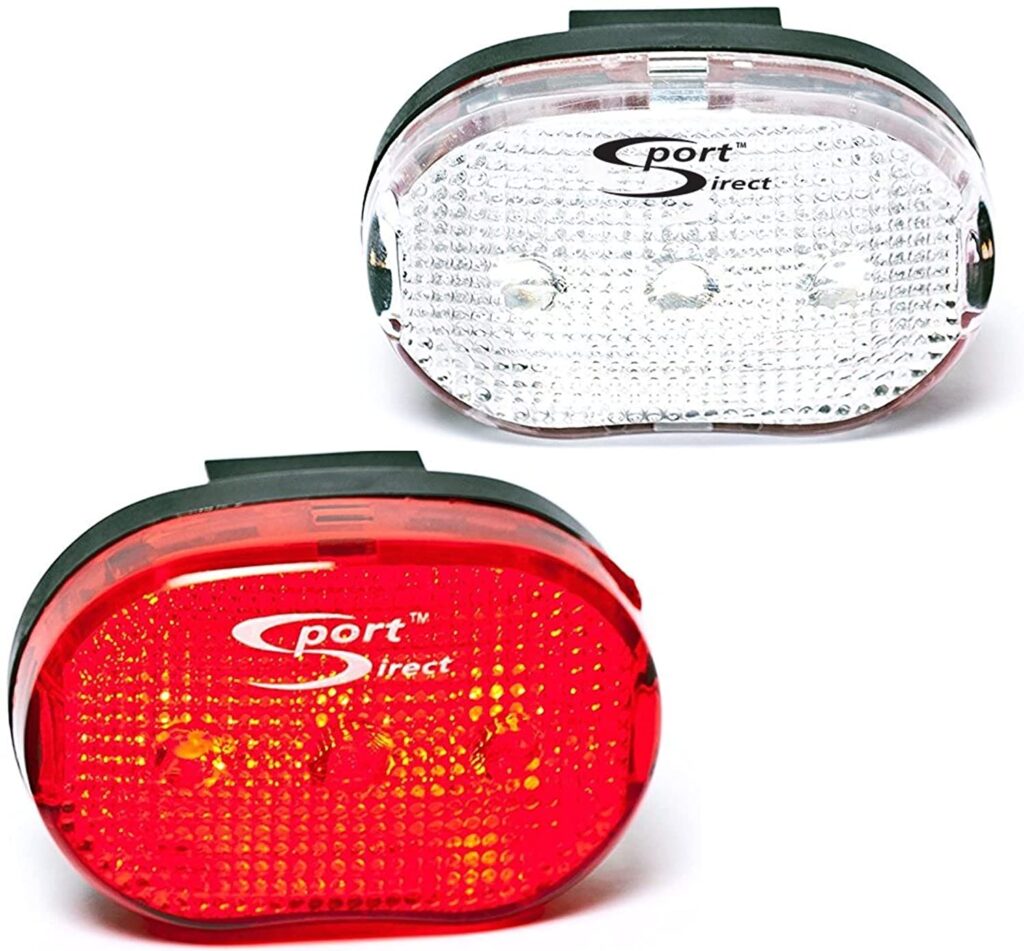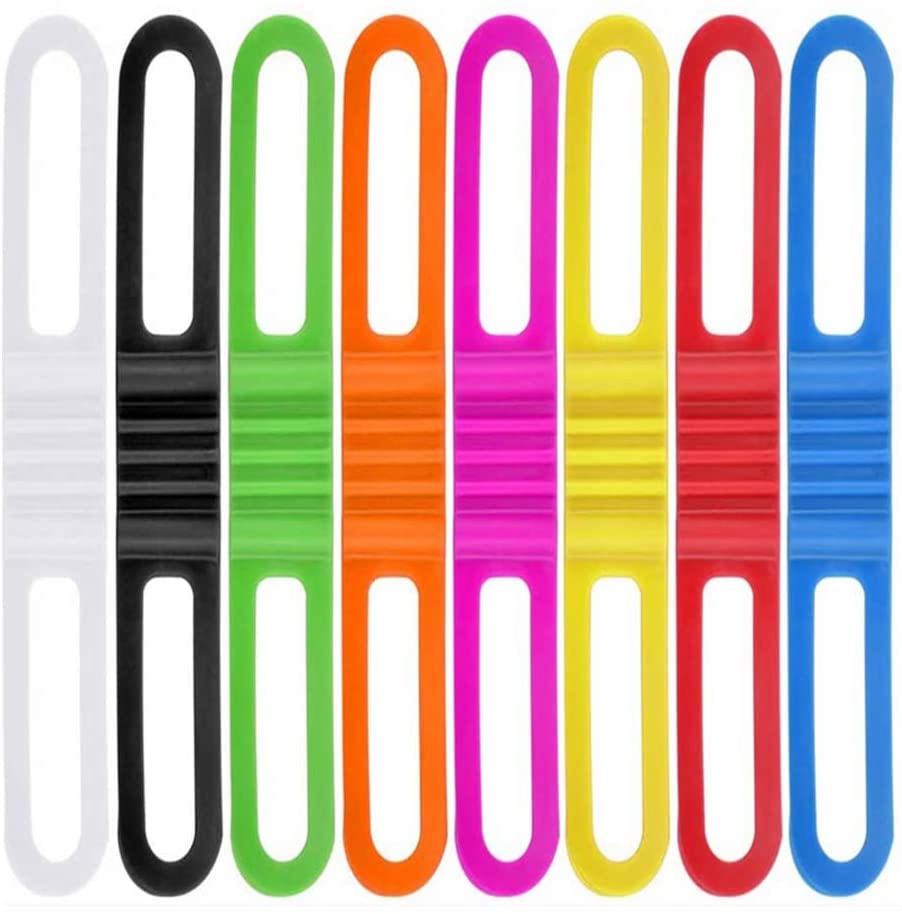 Silicone Bands:
I bought silicone bands to mount the above Red flashing signal lights to my PF. Since they're infinitely flexible, there is no worries about them snapping off as I read many complaints from cyclists losing their signal lights with rigid plastic mounts which shear cycling over bumpy terrain.
One note on these: When removing the signal light to change the batteries, CHANGE THE BAND ALSO! Over time the bands are subjected to extreme weather and stretching and will snap at some point. I reused a band several times after removing the light to change batteries and it eventually snapped and I lost the signal light at some point in the ride.
PLEASE NOTE: They are sold in different lengths- get the longer ones as the short ones don't have sufficient slack to secure the signal light.
You can buy them HERE
Audible Signals:
Bicycle Bell:
So far every bicycle bell I've tried has been total crap. The latest one I've bought has had the return spring break, so I now must manually move the lever back-and-forth to alert pedestrians of my approach. If I find a decent one I'll post something about it here
SHOUTING:
Given my luck trying to find a quality bell, I'll suggest SHOUTING as an audible alert. This method is FREE and indeed VERY effective! However, generally it should be used it in conjunction with the bell, but not in lieu of one 😉. If the pedestrian hazard doesn't hear your bicycle bell, then shouting "CYCLIST!!!!" generally works well as an attention-getter to the clueless who step out into the travelled way without looking. But they can only hear you if they've not got their AirPods in their lugholes listening to music…