20230903: To say the 2023 European Open Penny-Farthing Championships held in Oudenburg, Belgium was merely "exciting" would be the world's grossest understatement. It was boiling hot during a heat wave, but heat was NOT the problem…
In the qualifier on Lap 2, Roger Davies took out a steel barricade, and in his true "Terminator" style got back on his 50″ UDC Penny-Farthing and won the qualifier and (spoiler alert) the Final. F*cking epic racing. Unbelievable- were there not video of his epic feat.
And there is video, I assure the reader 😉
Crash is at 2min 45 seconds in the video
Roger went to pass René Seidenberg (DE) heading into the first turn, which is really tight and not far off 90 degrees; it's a sharp turn.
Realizing he couldn't achieve the pass, he went wide and outside the barricades. Only problem was the town's highways staff tied a YELLOW rope from the barricade to a metal fence post to prevent motorists from interfering with the race.
And to be clear, we ALL rode the course prior to racing it. NOBODY was aware that there was a rope there. If you watch the video as carefully as you can, you STILL cannot see the YELLOW rope.
Roger- racing clipped-in as is his custom- hit it AT SPEED and went down. I (US/UK) was trailing behind Rik Vernack (BE) and Roger into the turn with my helmet camera on (which after Knutsford is a big deal if you read that blog). Roger starts going over, the barricade starts tumbling and Rik narrowly misses it, and I'm trailing close behind Rik, watching him and the barricade bouncing on the ground trying not to end up collateral damage.
But taking out the barricade is not the story. No. The real story is the clipped-in racer who took it out, passes me a lap later to win the qualifier, and went on to win the Final in the European Open Penny-Farthing Championships. Unbelievable- were there not video of it and again, there is 😉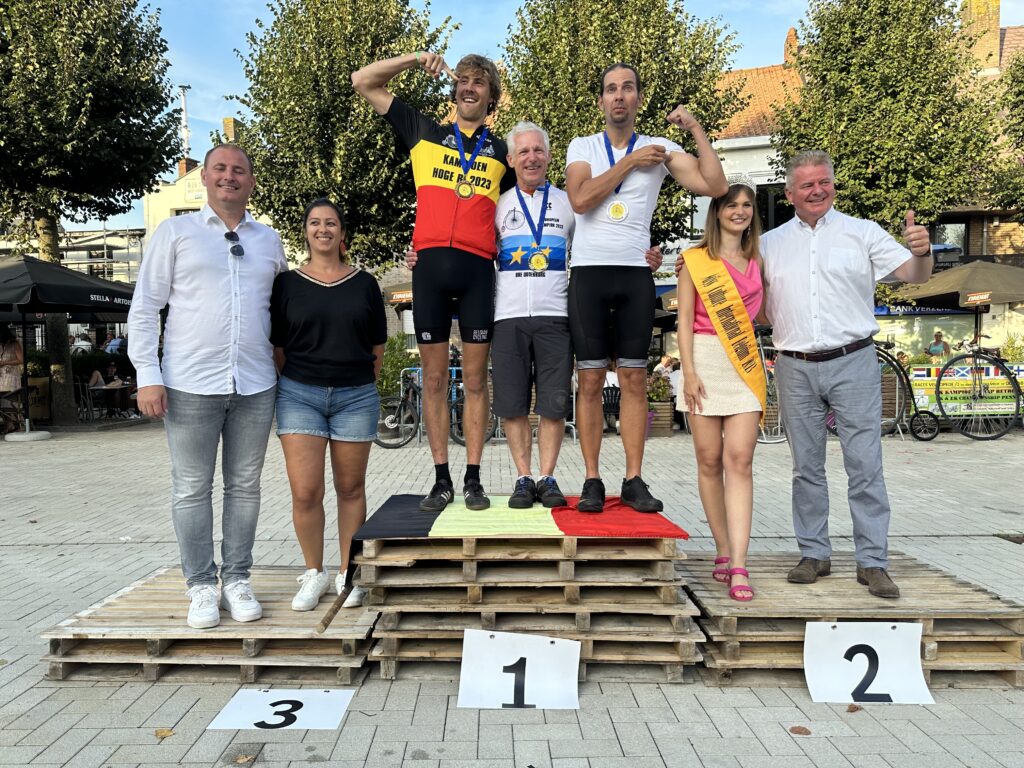 René Seidenberg (DE) took 2nd Place
The rest of Oudenburg is a bit of a blur. Oudenburg 2023 I think will always be remembered for what is a bit of epic cycling- Penny-Farthing or otherwise- by Roger Davies. That was crazy. All future victories will pale in comparison. I didn't even place in that race, buut it was a privilege to have been on the course with Roger and the others. Nobody died or got seriously injured and in the end, racing Penny-Farthing always entails some level of risk. If you want to stay safe, play video games in your house.
But let's not forget Eric Desmet, the Race Organizer and his team. Truly outstanding job. Fabulous. The boo-boo with the yellow rope was down to the roads authority and no blemish on the event's safety record. IT was a very well executed event and I felt privileged to be a part of it. Thanks to Eric- and Roger of course- for making Oudenburg 2023 memorable! And the pre-race BBQ Eric laid-on for us all. OMG. Fred Flintstone's Brontosaurus stakes were not that big. And the salads? Don't get me started! Nom, nom, nom…
I look forward to seeing all at Oudenburg 2024!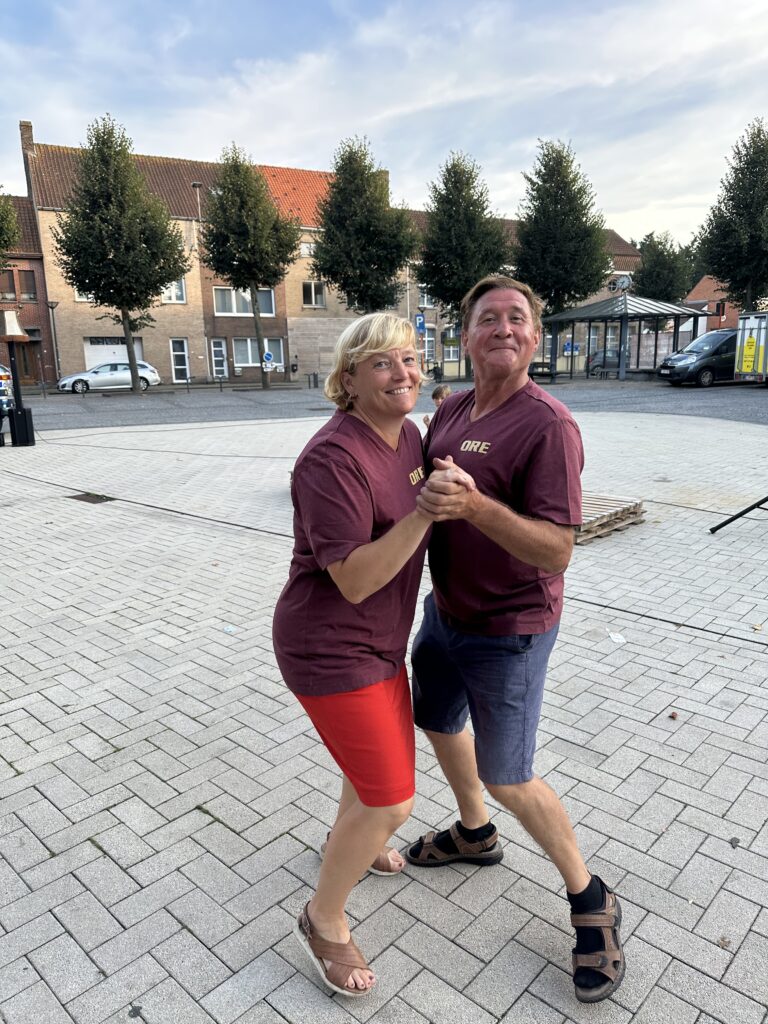 Eric Desmet and his lovely partner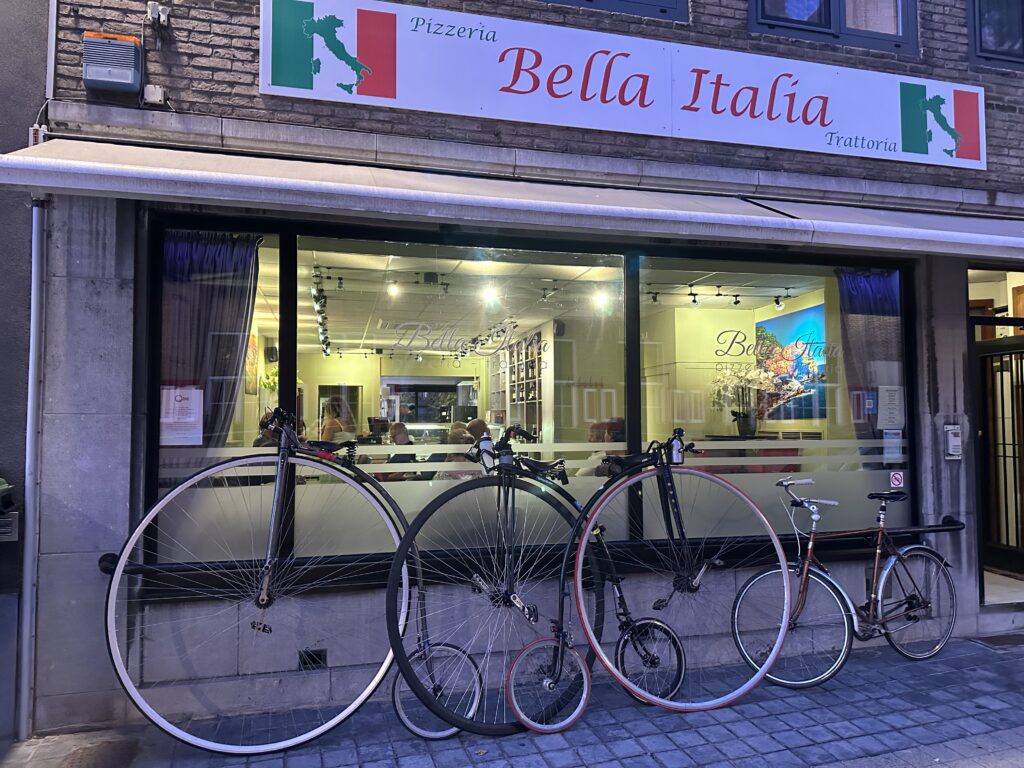 Dinner after the Finals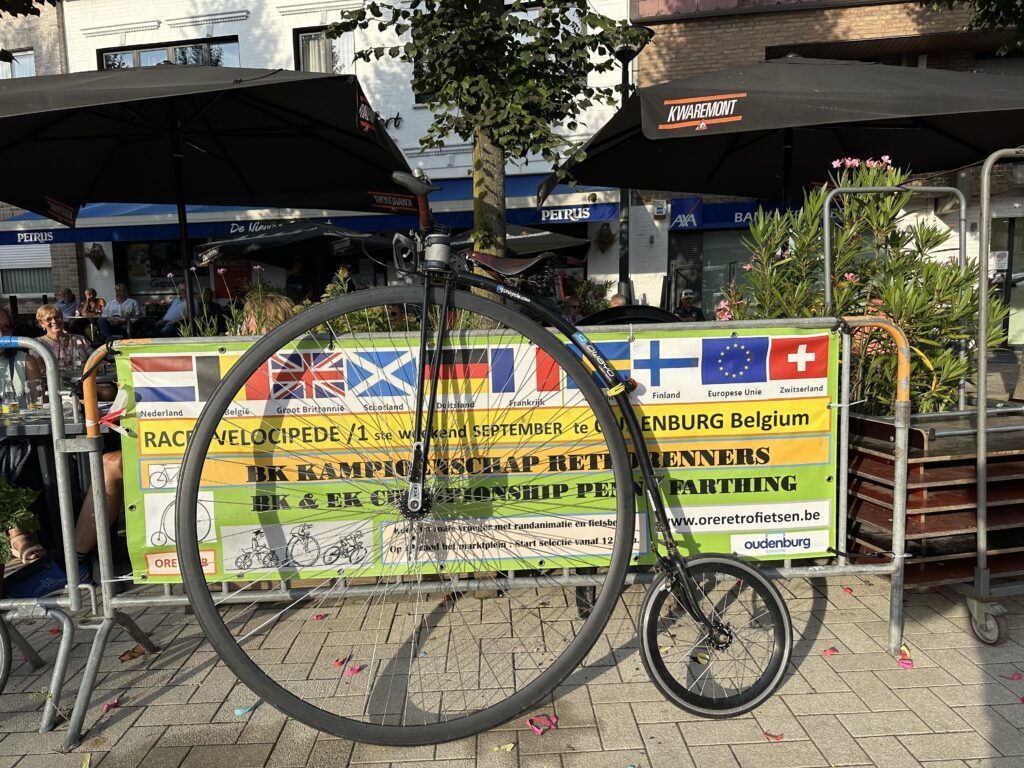 Terrence Houlahan