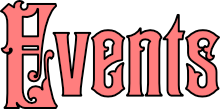 February (Annually): Australian National Penny-Farthing Championships
Held annually each February in Evandale, Tasmania
https://evandalevillagefair.com
01 May 2023: Reach Fair Cycle
Not exclusively Penny-Farthing event, prospectively
there are expected to be about a 6-12 of us participating in the cycle
which finishes at the medieval Reach Fair, which has been happening since 1201.
30 JUNE-02 July: Sweden 3 Days Penny-Farthing Race
This is the only Stages race on the Penny-Farthing racing calendar: (4) stages test riders for speed, endurance and strength (= big hills):
https://www.sweden3days.se/the-race.html
13 Aug 2023 @ 1000: Beachy Head Hill Climb
The start begins at the far end of Eastbourne Seafront where Penny-Farthing riders cycle to Upper Dukes Drive and make their way to the top of Beachy Head where they finish at a parking lot at the top. Riders are released at 1 minute increments and the one with the fastest time to cover the distance wins. To participate, please contact Matt Trott on the FaceBook Group "The League of Ordinary Riders" prior to arriving.
Race Results:
2022: 1st Place: Roger Davies, 2nd Place: Charlie Burell, 3rd Place: Terrence Houlahan
27 AUG 2023: COUNTESS OF WARWICK COUNTRY SHOW, Little Easton, Essex
I'll be joined by other Penny-Farthing cyclists riding from Bishops Stortford to Little Easton, Essex to assist with the Classic Bicycles exhibition to be presented by Ed Knight (himself a PF cyclist) @ sometime between 1000-1100-ish in the main arena. Ed will give a talk and demonstration of various historical bicycles and their evolution. If you can't make the demo in the main arena on Sunday 27 Aug, Ed will nonetheless be there all day both Sunday & Monday with a standing display where you can approach him for a talk on his extensive collection of historical bicycles. If you're a keen cyclist, it's worth a visit to the festival which has other displays of tractors, classic cars, flowers, etc….
10 SEPT 2023: The Knutsford Great Race: (Held every 10 years)
The 2020 race cancelled due to Covid, but it's been rescheduled for this year. Don't miss it or you'll have to wait until 2033!
25 SEPT 2022 Pickwick Penny-Farthing Race, Hillingdon, West London
The Pickwick Cycle Club- founded in 1870 making it the oldest in the world- hosts two races at the .93 mile Hillingdon Cycle Circuit: The first is a single lap for classic Penny-Farthings while the second is (12) laps for modern Penny-Farthings.
Results: Modern Penny-Farthings
2022: 1st Place: Roger Davies, 2nd Place: Gordon MacLachlan, 3rd Place: Terrence Houlahan
https://www.sientries.co.uk/event.php?elid=Y&event_id=5834
23 July 2022: British Open Penny-Farthing Championships: Cyclopark, Gravesend, Kent
Note: The organizer Mat Trott states that the Pickwick race @ Hillingdon in Sept each year will replace this event as the British Open Penny-Farthing Championships.
Results:
–> RACE:
2022: 1st Place: Charlie Burell, 2nd Place: Richard Thoday, 3rd Place: Terrence Houlahan
–> DOUBLE SLALOM:
2022: 1st Place: Brian Cobbold, 2nd Place: ?, 3rd Place: Terrence Houlahan