20220925 Hillingdon Cycle Circuit, West London
The Pickwick Cycle Club- the oldest bicycle club in the world- hosted the last (2) Penny-Farthing races of the 2022 season at their home track, the Hillingdon Cycle Circuit in West London. Although the weather was mostly favourable for racing high wheel bicycles- partly cloudy with temps of about 15 celsius- the winds were a bit strong at about 15-20 MPH. Hillingdon Cycle Circuit is .94 miles long and 6 meters in width with a sharply twisting uphill back section leading to a long, fast straight. The track itself is maintained in superb condition.
The Race Course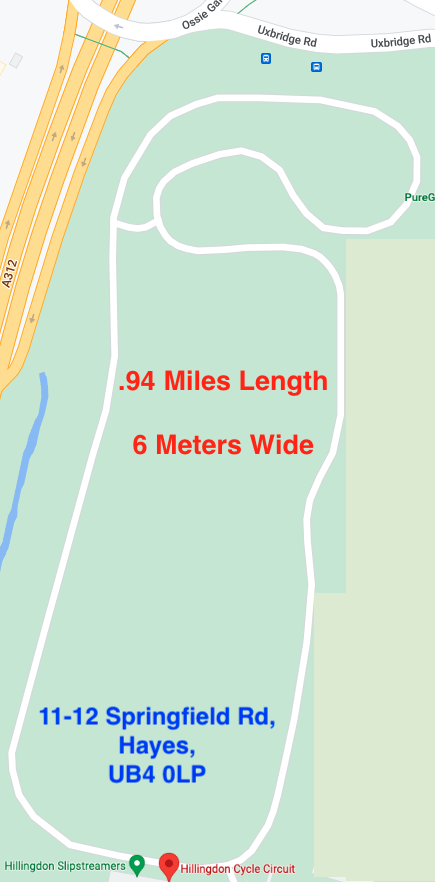 Race #1: The Classic Race
This was exactly 1 mile in length and only open to original, vintage Penny-Farthings, so I didn't compete in this one as my PF is a modern UDC model. There were 7 competitors. The overall champion was Gordon Maclachlan while the Masters (over 65's) champ was Phil Saunders, who both came back to compete in the 2nd race; hard core cyclists.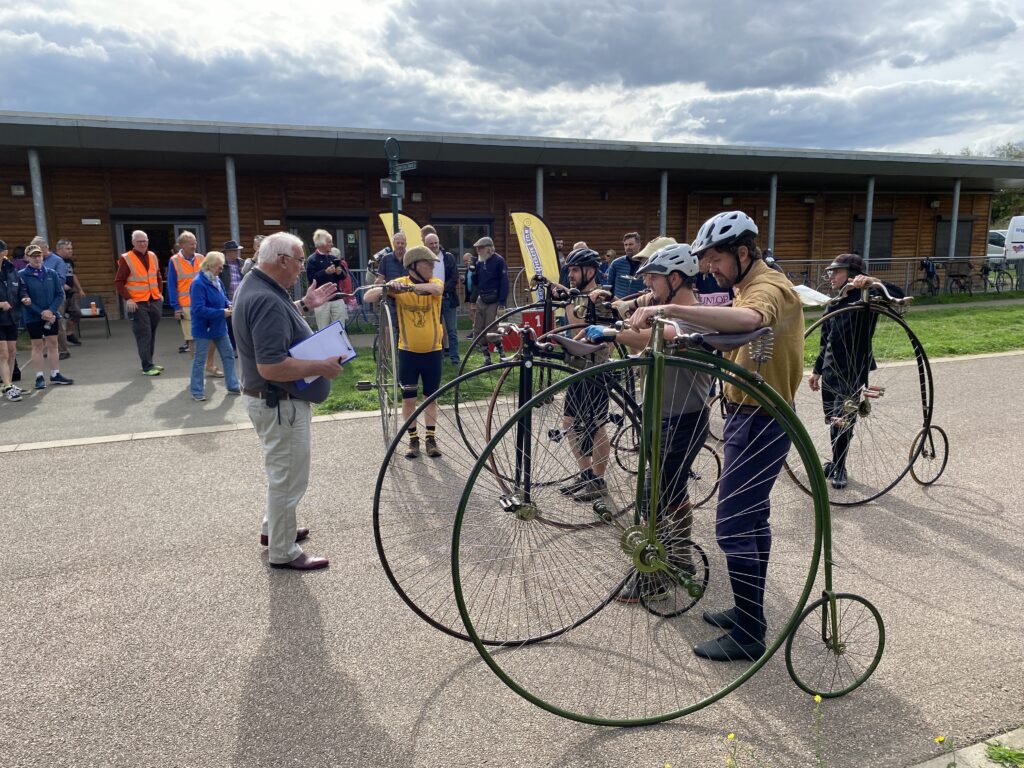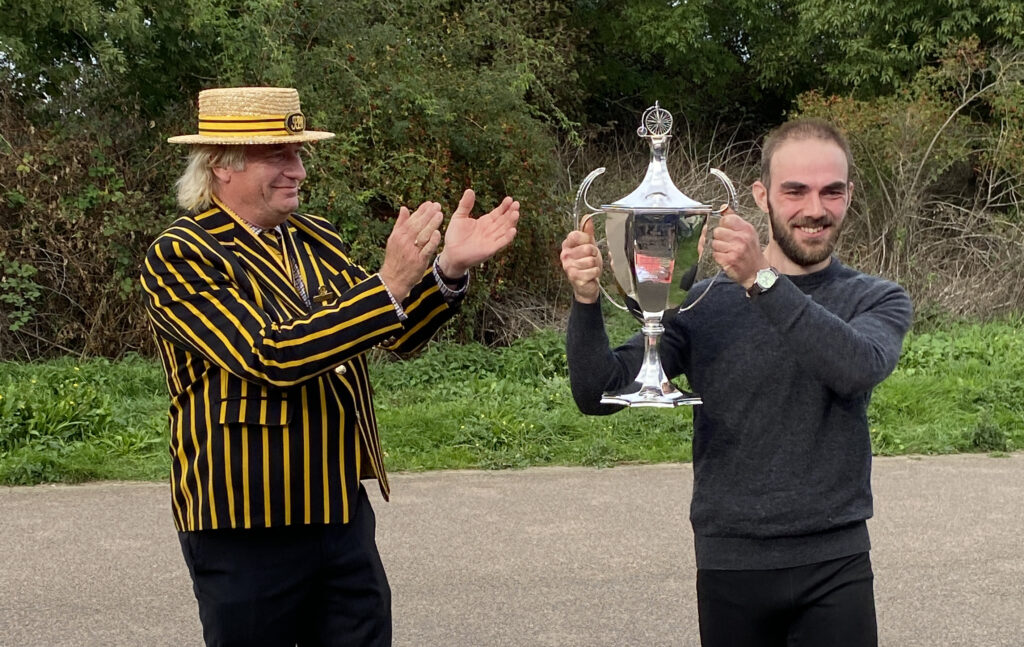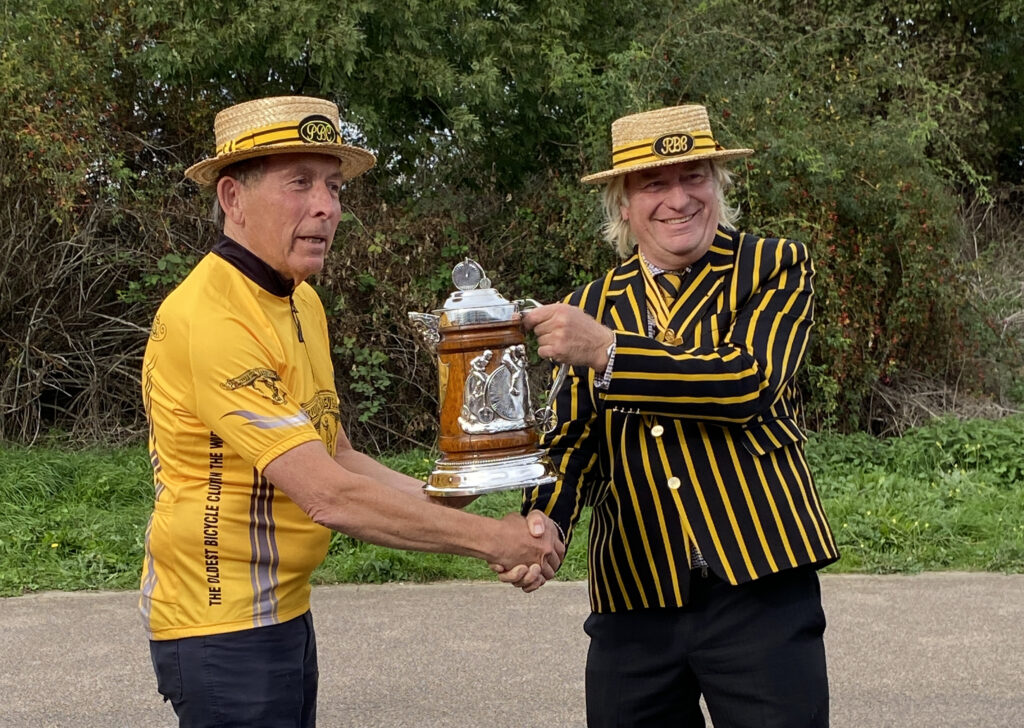 Race #2: The Penny-Farthing Race
After about a 45 minute break, race #2 started. This second race was mostly contested by modern Penny-Farthings, although some of the racers rode original ones an upwards of 150 years in age. This race was 30 minutes +2 laps in length (11.28 miles), so 12 laps for the faster riders competing for a place, 11 laps for slower racers. The track was mostly fast, but racers got hit with strong headwinds grunting up the back uphill section of the circuit. (16) racers contested the race, with only a single female racer.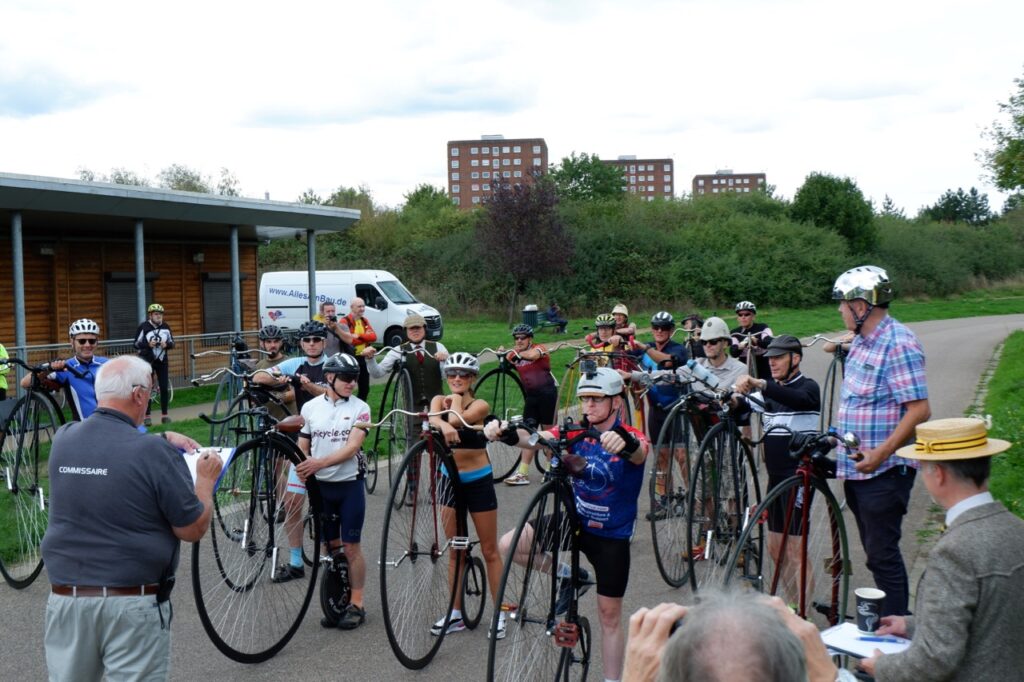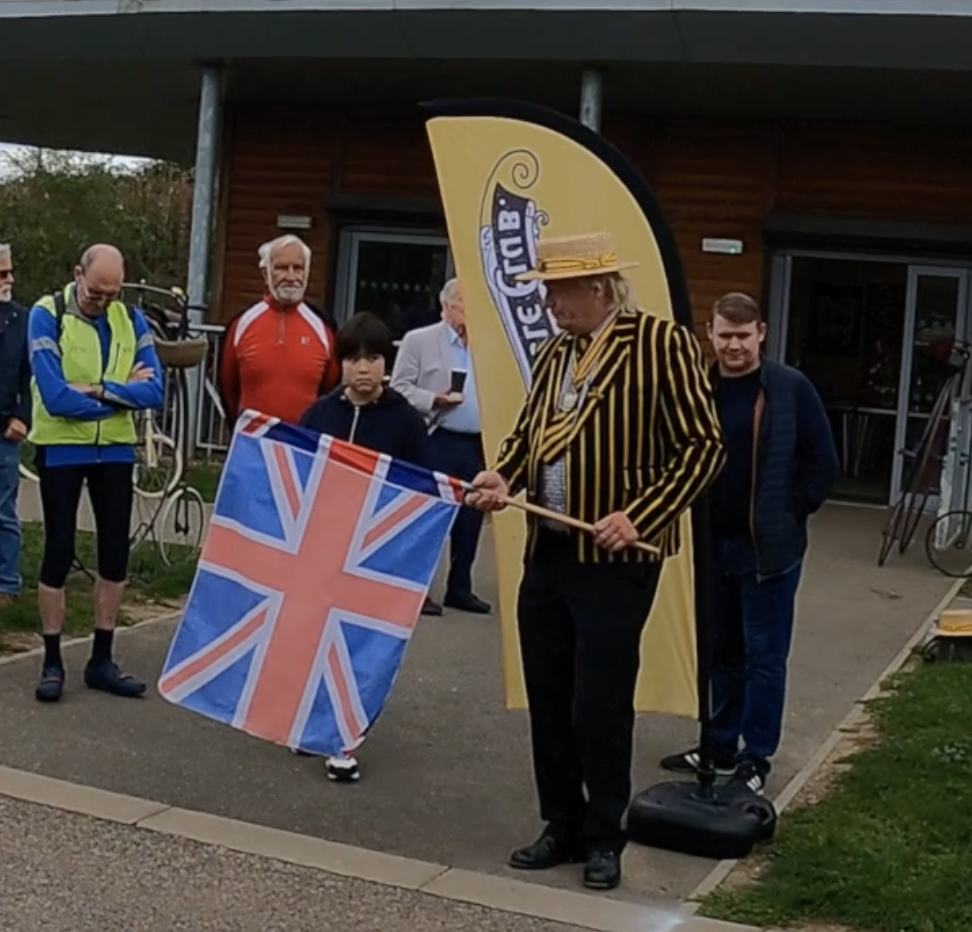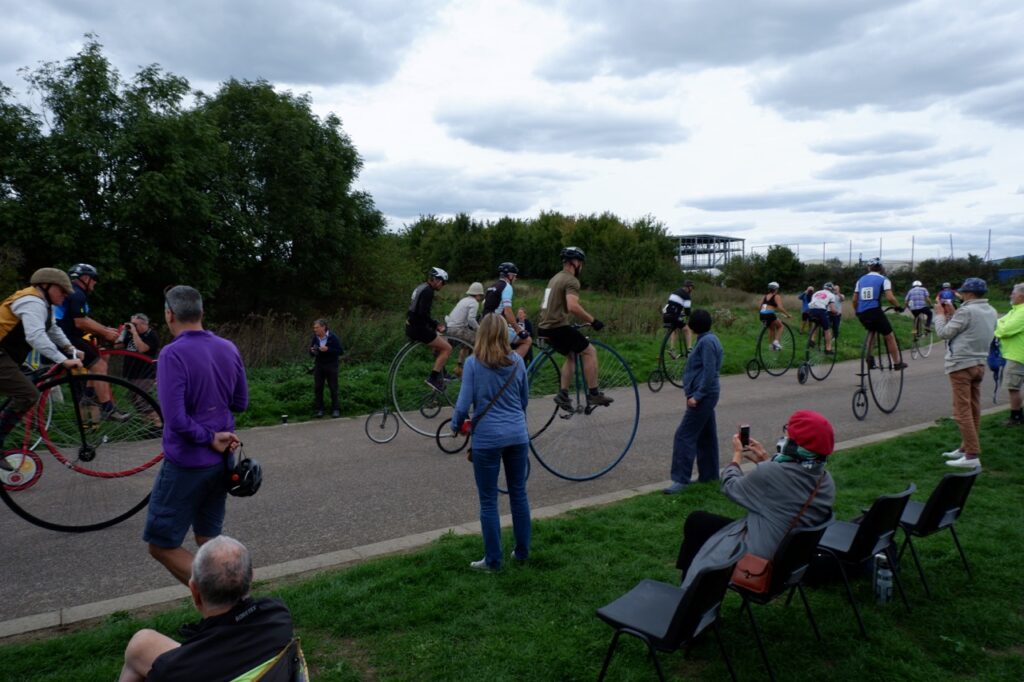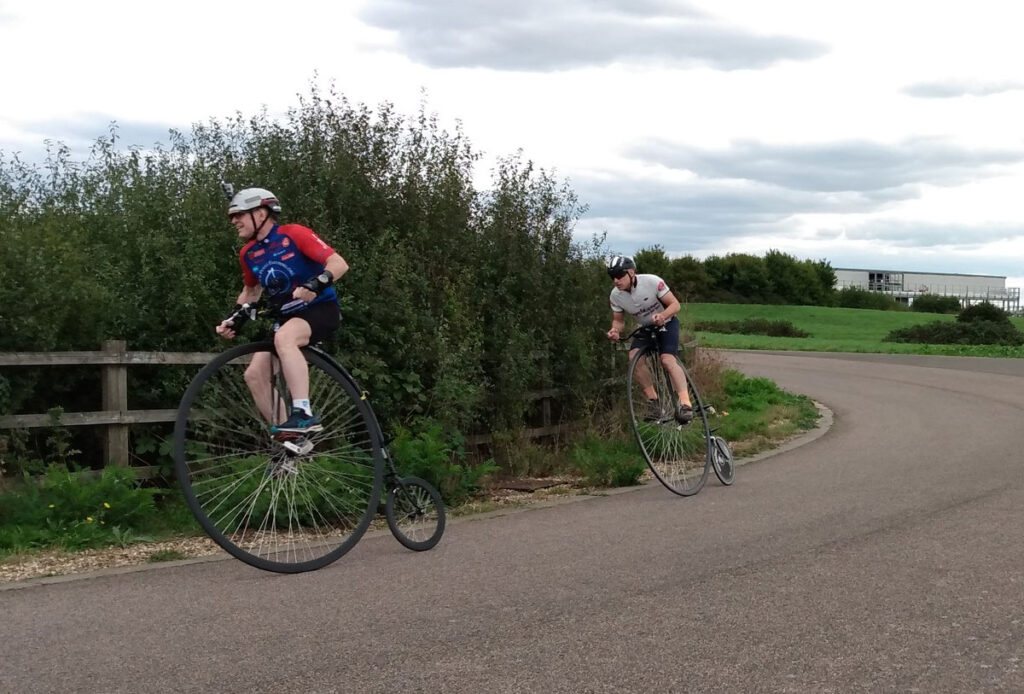 After the field settled, several track battles emerged for 2nd & 4th places racers each spurring on others to achieve their personal best. And good sportsmanship was in evidence throughout, racers checking for trailing riders and alerting those ahead of their approach during passing. Indeed, one's personal conduct on the track is closely watched by Pickwick Bicycle Club: any ungentlemanly-like conduct spotted during the race by one of their race commissaires will result in immediate disqualification. Good sportsmanship matters as much- or more- than fast lap times. And indeed, the lap times were fast.
2nd Place was traded between Terrence Houlahan & Gordon Maclachlan until Gordon pulled away on the last lap, crossing the finish line 5 seconds ahead of Terrence.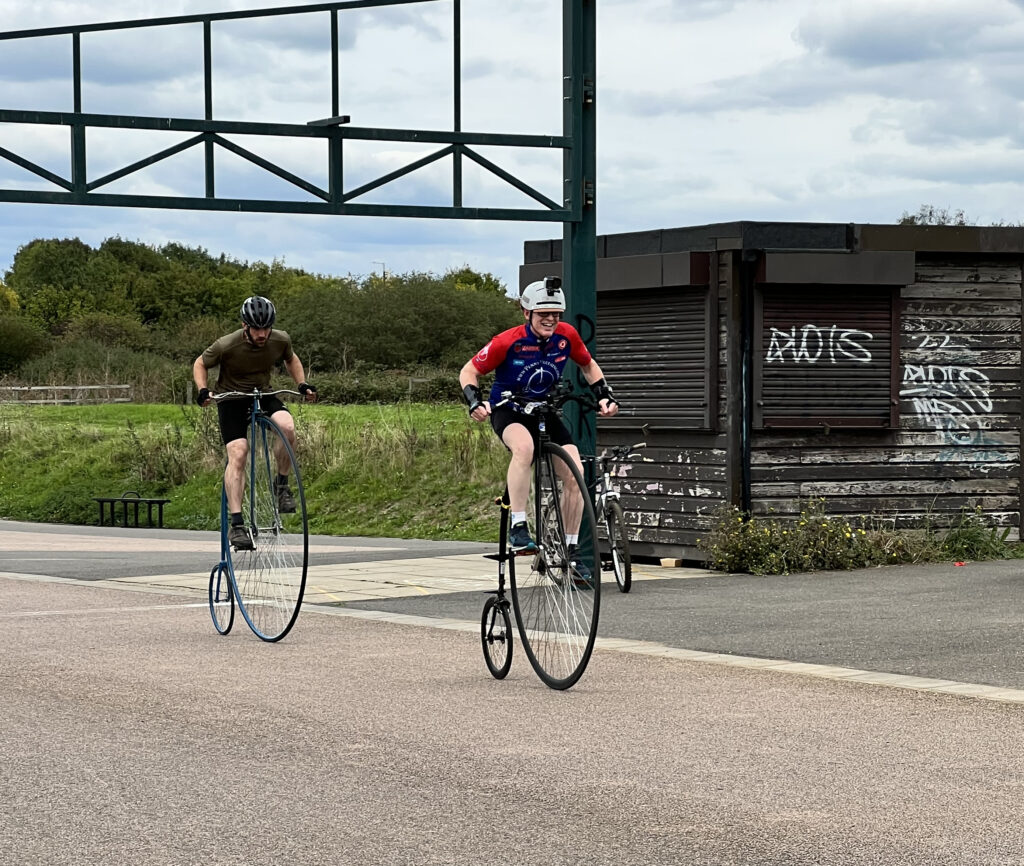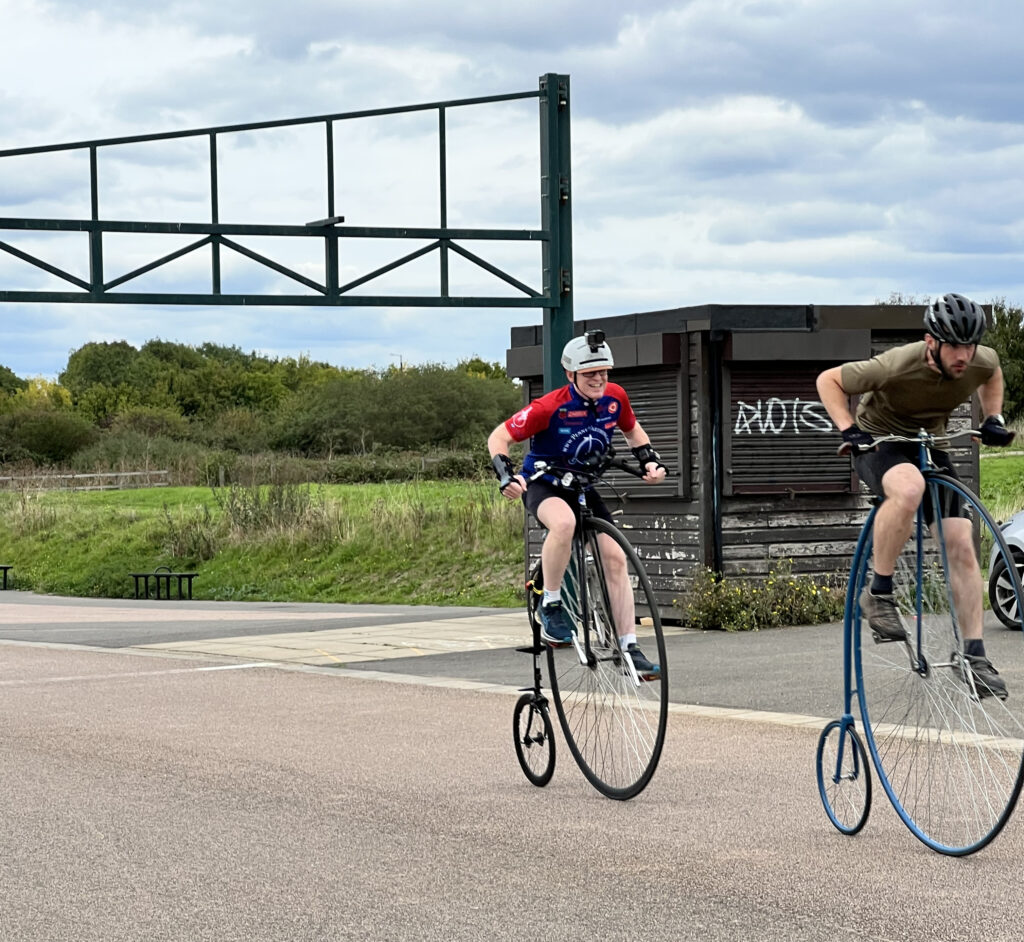 The other battle that was closely watched was for fourth place, between Andy & Neil. They too traded fourth throughout the race until Neil edged Andy out by a wheel's length at the finish line, and the picture below illustrates how tight the pair fought for the place:
But what about FIRST PLACE?!?!?! Ironically, that was least watched because the winner- Roger Davies- was about a minute ahead of Terrence & Gordon and about 3 minutes ahead of fourth place. So first place was largely uncontested with Roger establishing himself as the lead dog from lap 1.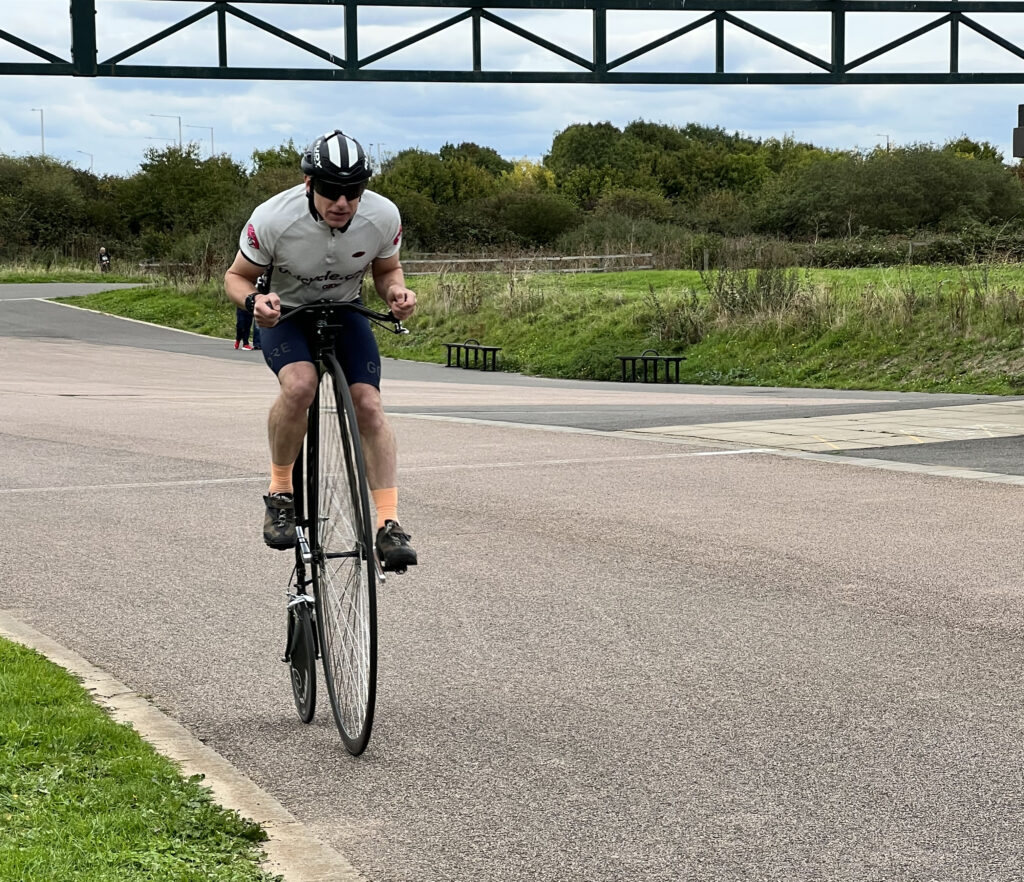 Race Results for (12) Laps:
1st Place: Roger Davies, total time of 36:58 and an avg 18.33 MPH speed, riding a 50″ UDC Penny-Farthing
2nd Place: Gordon Maclachlan, total time of 38:06 and an avg 17.76 MPH speed, riding a 56″ Richards-of-England Penny-Farthing
3rd Place: Terrence Houlahan, total time of 38:11 and an avg 17.72 MPH speed, riding a 50″ UDC Penny-Farthing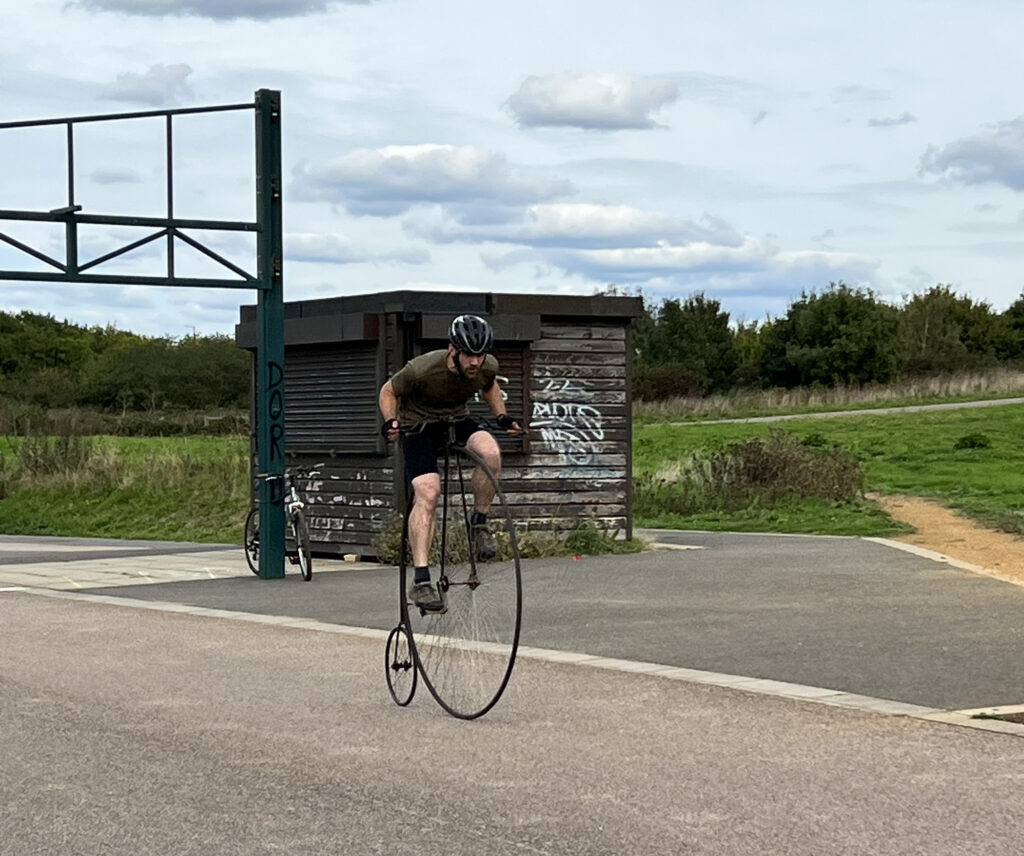 Conclusion
So that's the end of the 2022 Penny-Farthing racing season. I managed a 3rd place in all of the organized races in 2022, so not great, but hey, I'm consistent ;-). It's back to riding our Penny-Farthings on dark-and frequently wet- & cold evenings. Away with racing jerseys and back to Merino wool shirts & warm gloves. I'd like to close by saying a big "thank you" to Stuart Mason-Elliot the race organizer and his Pickwick Bicycle Club for hosting an outstanding finish to the 2022 racing season!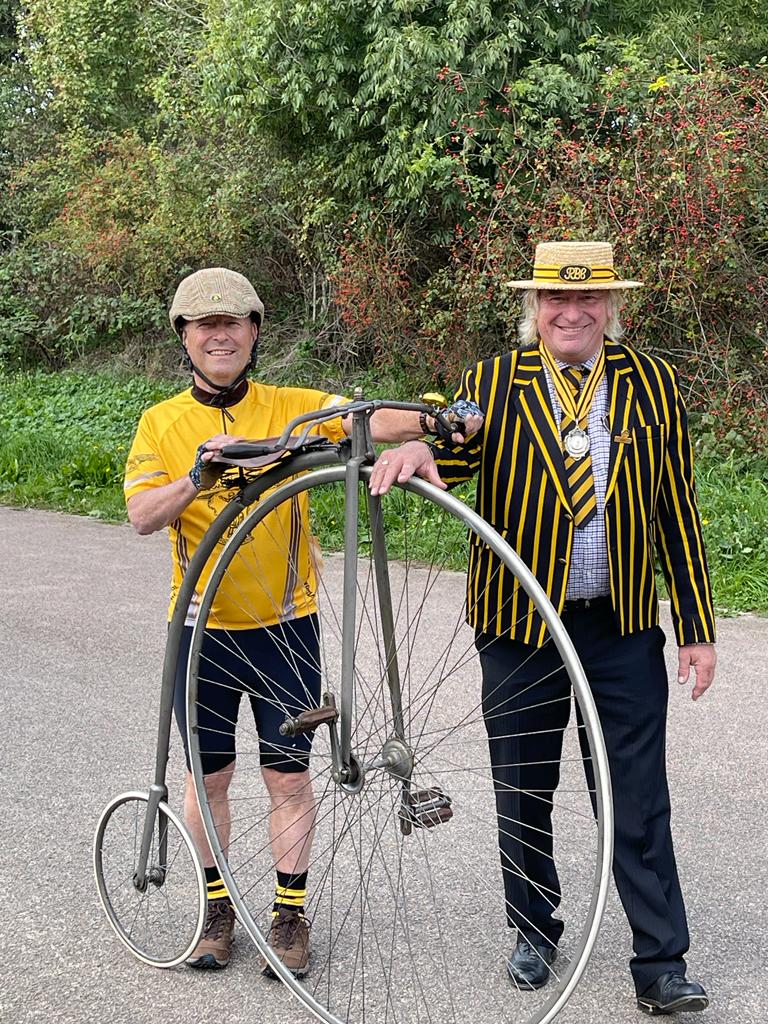 Below is the full video of the 2022 Pickwick Bicycle Club's Penny-Farthing Race in all 47 minutes of it's glory.